Solar Groove [Comments & Supplements]
Sun Mar 29, 2009, 02:20 AM
Pyurio
Vegan Robot


Posts: 380
Joined: Dec 2005
Reputation: 0
RE: Solar Groove [Comments & Supplements]
I made tables:

The empire is divided into seven space, the location should be pretty self descripting.
Notice the flavor of the name of the current Archimago and the Previous Archimago *hint, hint*. Also "alan" means "now". Whenever someone joined a Knisa they pick up a new Shamic name for themselves.
The Empire wasn't exactly a democracy (because after all it's an empire) so it is not uncommon for a relative to fil the position of the next ArchiX. Tristan's father used to be an Archididascalo as well.
---
Also: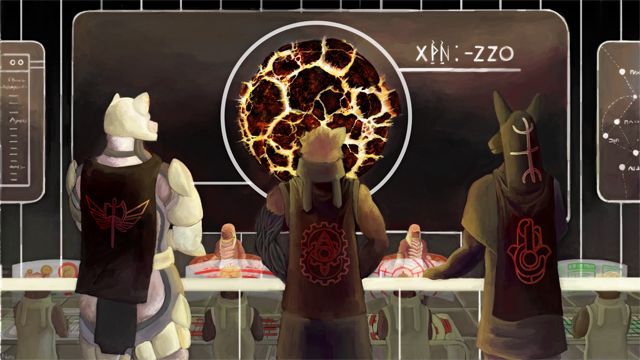 Cracks of light began to form on the planet surface, twisting here and meeting there. Soon the surface of the rocky planet turned red and black here and there. A pulse of light burst, commencing the silent explosion. All of this happened at least at the speed of sound, and still from where they stood, the planet looks like it was disintegrating slowly as it glowed and burned.
"What an awesome sight." Archistratego Vasara stared in wonder "The Intellegencia never fails to amaze me."
"We were merely reverse engineered several PAs." Archididascalo Reynard humbled himself. "Personally I see this as a very dangerous object and we shall destroy it. What do you think Archistratego One?"
"Yea, there's indeed such thing as to much power. And ... since the loss of Geomorpher we can't afford destroying a habitable planet, you know."
"This is true." Archimago Salman concurred.
"Very well then. This weapon shall be locked with the twenty one seal." And so only the blood of twenty-one member of council can unleash this terror.
"Now ... comrade," The wolf general patted the fox's shoulder. "What we need now ... is a weapon that only destroy animal tissue."
The Archididascalo's face lighted up. "Of course ... this is one of the research my son Tristan have been studying. I would like to say that he also has great part in this World Burner project."
"What an excellent young man. Fruits indeed don't fall far from their trees." Salman the Jackal complimented.
The wolf snickered at that comment, "fruits" he said under his breath.
"Archistratego one..." the fox did not look pleased "Do you have any problem with my personal live?"
"Ah sorry, sorry about that comrade, my bad." The wolf paused to look at the screen the fragments that were what left from the planet. "You know ... I envy you. I wish my sons would listen to me..." he sighed, "They joined Vargr Corps ... Freak and Gear is their new codename."
"Well ... look at the bright side ... at least your sons didn't become feral."
"Yea, it's just that ... well ... I know they're now all grown up and they should be choose their own path in live it's just ... well ... I wish they could follow the normal path and maybe ... become an Archididascalo to replace me. Now they got the black eyes ... there's now way they could get higher than just a mere commander."
"Oh enlighten yourself, that is an outdated view, Brother Vasara. My daughter manages a Knisa with several deathless Kahíns, they performed excellently ... well except from several ... quirks."
"I suppose, you're right."
---
"Dude ... this is your family tree, eh roley?"
"Yes."
"You know ... a tree would have root and branch. This is just ... this is just a single continuous chain. Where's your mother? grandmother? uncles? aunts? cousins?" Sando scratched his head as he scrolled the diagram ever upwards "Dude ... everyone here looks exactly like you."
Quote:Guys, this isn't a proper apology yet but I will have to say that I can't continue adding to the story anymore ...
:(
---
I'm not good with people
Sat May 09, 2009, 02:33 PM
Pyurio
Vegan Robot


Posts: 380
Joined: Dec 2005
Reputation: 0
RE: Solar Groove [Comments & Supplements]
Posted new installation since ... more than a month have passed.
---
I'm not good with people
Sat May 09, 2009, 10:55 PM
nightPhaser
Megami Tensei Advocate


Posts: 1,365
Joined: Dec 2004
Reputation: 0
RE: Solar Groove [Comments & Supplements]
>> I came back from watching "Star Trek" and it reminded me of the main reason I went along with this story shindig: planetary orbital showdowns.

Daaaaymn, I'll try to get back on this horse. Barring that, I'll put up some ship-design sketches.

Also, scouting for a replacement third writer.


---
[ Proceed calmly. ]
DevianTART
FurAffiTiny
Fumblr
Twerter
User(s) browsing this thread: 1 Guest(s)