Amazing Spidey - grizzly furry reference
Mon Oct 20, 2008, 11:23 AM
(This post was last modified: Mon Oct 20, 2008 11:24 AM by Cindermane.)
Cindermane
Hunter


Posts: 117
Joined: Aug 2008
Reputation: 0
Amazing Spidey - grizzly furry reference
Amazing Spider-Man 573 [which is the conclusion to the new Anti-Venom arc] has a back-up feature with Spidey teaming up with Stephen Colbert to battle the Grizzly (it's a silly story). Yeah, Spidey makes a reference to furry conventions. Kinda negative, kinda not. It's Spidey trying to crack-wise after all.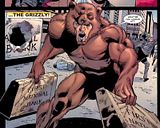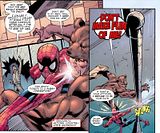 [One of the DC Countdown issues also references furries. When asked out the Female Furies, one of the ladies thinks it meant furries. (I can't remember the exact thing she said).
Tue Oct 21, 2008, 07:41 PM
Canis Enigmas
Super Moderator


Posts: 2,172
Joined: Sep 2004
Reputation: 0
RE: Amazing Spidey - grizzly furry reference
Even more evidence of the creators/writers of Spider Man having furry/fursuiter-tendencies in them.
Ugh! This character looks too much of a photocopy of
Rhino

and having the (cliche) fursuiter-design-concept as
Scorpion
,
Vulture
and
Jackal
(a green fur-suit with large ears looks like a jackal?!? Talk about landing on your head after reading 'How The Grinch Stole Christmas')
Then again, they did come up with the
Lizard
Thu Jan 15, 2009, 02:14 AM
Atticus
Hunter


Posts: 81
Joined: May 2008
Reputation: 0
RE: Amazing Spidey - grizzly furry reference
That being said, I've begun to notice that there ARE indeed a lot of 'fursuiters' in the Marvel universe. Lol.
---
FCF/A3 A++++ C- D+ H++ M+ P- R++ T+++ W Z- Sm+ RLET a- cw++ d+ e- f+++ h* iwf+ j+ p sf+
User(s) browsing this thread: 1 Guest(s)